CAMPUS NEWS
University Collective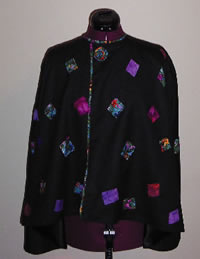 Wings begins touring with exhibit
Dr. Melinda K. Adams, assistant professor of fashion management, had her creation, called Wings, selected as part of a national traveling exhibit sponsored by Hoffman fabric. The exhibit will be traveling until October 2008. Wings is a dark grey woolen cape with reverse appliqué, piping, pleat in the back and a piped flower on the front. The traveling exhibit schedule is available at www.hoffmanchallenge.com.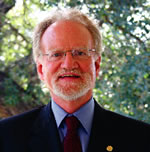 Dr. James Creagan
Dr. James Creagan, ambassador in residence and distinguished professor of political science and international studies, was a senior mentor for U.S. Southern Command, Second Fleet and the Department of State in multinational exercises in Panama concerning international security and disaster assistance in August. In one action, they responded to Hurricane Felix in order to provide aid to the Central American region.
Dr. Jo LeCoeur, professor of English, has had a number of publications and presentations: "Taking the Last of the Sun" (poem) accepted by the Birmingham Poetry Review (juried literary journal at the University of Alabama in Birmingham); "Old Leaves" (poem) accepted by the Palo Alto Review for a future issue (juried literary journal at Palo Alto College); and Medicine Woods (a poetry collection) accepted by Pecan Grove Press at St. Mary's University, Director H. Palmer Hall, with publication set for Nov. 30. The following had fall 2007 publication dates: "Nanih Waiya, Mother Mound" (poem) in Tar River Review (juried literary journal at East Carolina University); "Kitchen Shadow" and "She Has Always Been Our Constant" (poems) The Cape Rock Review (juried literary journal at Southeast Missouri University) and "Gravity" (poem) in Art at Our Doorstep, an anthology edited by Nan Cuba, published by Trinity University Press.
Dr. Chris Paris, assistant professor of English, had an article published in Rhetoric Review, Volume 26, Number 3, 2007, entitled "Lingua Esoterica Obnox (ad nauseum); or, The Critics' and Editors' Snow-Jobs?" He solicited samples of scholarly rhetoric chosen by his HASS colleagues - Dr. Glen Ambrose, Dr. Roger Barnes, Dr. Emily Clark, Dr. Pat Lonchar, and Dr. Harold Rodinsky - for proof, in part, to demonstrate the thesis of his article.
Dr. Maria Felix-Ortiz, visiting assistant professor of psychology, made a presentation Aug. 23 to the Health Collaborative's Youth Mental Health Council conference called A Fragile Generation: Meeting Mental Health Needs in the School Community. The presentation was based on her research and a cultural competence training curriculum that she developed for the Texas Department of State Health Services. On July 30, Felix-Ortiz also was awarded the San Antonio Independent Living Services 2007 Media Award for their 17th Annual Americans with Disabilities Act Celebration. The award was in appreciation for the "generous support and community spirit" of her weekly column for the San Antonio Express-News. The column also received several awards last year including one from National Alliance for the Mentally Ill, Texas. Finally, she helped organize and present a paper, entitled "Design and Method in Understanding Cultural Phenomena" at the National Institute of Drug Abuse's National Hispanic Science Network Summer Research Training Institute, at the University of Houston, on June 4-12.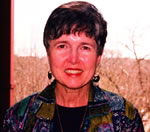 Dr. Sally Said
Dr. Sally Said, associate professor of Spanish, spent two months at Dine College in Tsaile, Ariz., studying the Navajo language, attending an international conference on Athabascan linguistics and serving as consultant to the Navajo language program, designing a four-year program in Navajo language studies. Said presented a paper at the Western States Rhetoric and Literacy conference on Sustainability at Arizona State University on Oct. 26, "Words to make the Springs flow Again: Protecting the Headwaters of the San Antonio River."
Dr. Michael Tallon, assistant professor of Spanish, wrote the literature review for a chapter on foreign language anxiety, co-authored with Dr. Elaine K. Horwitz, a professor of curriculum and instruction at the University of Texas in Austin, to be included in a book about general academic anxieties. Tallon will present two papers at the American Council on the Teaching of Foreign Languages (ACTFL) Conference in San Antonio in November: "Foreign Language Anxiety in Heritage Students of Spanish," and "Putting Theory into Practice: An Innovative Approach to Teaching Culture in an Intermediate Spanish Class."
"Get the Children Home: Iraqi Refugees in Jordan" by Sr. Martha Ann Kirk, CCVI, professor of religious studies, appeared in the November issue of St. Anthony Messenger magazine, one of the most widely distributed Catholic publications in the U.S. She and Dr. Jessica Kimmel were among three Catholic Church groups offering assistance to some of the four million people, half of them children, who have fled the violence. Kirk is inviting U.S. children to participate in an exchange of art with the Iraqi refugee children in the church center in Amman. The Brainpower schools will be participating in the project to build friendship. On July 17-22, Kirk presented "Vietnamese Christians Sharing God's Beauty" in the Sacred Dance Guild Festival "Many Faiths, Many Forms, Dancing the Sacred Together" at the University of California and the First Congregational Church in Berkeley, Calif. An article about this presentation will appear in the next Sacred Dance Guild Journal and will be supplemented by an article with video on the Sacred Dance Guild website. On Oct. 11-13, Kirk presented papers at "Going Global: Interfaith Journeys on the Road to Liberation in the 21st Century," an international conference at the Center for Jewish Studies, Baylor University, Waco, and on Nov. 3-4 at the third annual international conference on Islam in the Contemporary World: The Fethullah Gülen Movement in Thought and Practice, University of Texas at San Antonio.
Dr. Pat LeMay Burr, distinguished chair in international business, worked in Kuwait and Jordan in the summer, completing a Fulbright-Hays award. Her time was spent working on international exchange projects with the U.S. Embassy in Kuwait, in affiliation with the U.S. Department of State. Burr also participated in the Campus de Excelencia in Fuerteventure, Canary Islands, in a project hosted by the government of Spain. The topic was work projects and sustainable development for Africa. Burr delivered a research project pinpointing successful development and social justice projects across Africa, including the "one laptop per child" program, the "solar flashlight" project, and micro enterprise successes.
In August, Dr. Annette Craven, associate professor of management, was appointed to the 2007 board of examiners for the Malcolm Baldrige National Quality Award. As an examiner, Craven is responsible for reviewing and evaluating applications submitted for the award. On June 29, Craven was elected to a three-year term on the board of commissioners for baccalaureate and graduate education of the Association of College and Business School Programs (ACBSP), the entity that accredits the H-E-B School of Business and Administration business programs.
Dr. Esmeralda de los Santos, marketing professor and undergraduate chair of the H-E-B School of Business and Administration, was the recipient of a 2007 Faculty Development Fund Award. Continuing her study of ceramic export patterns in Mata Ortiz, Chihuahua, Mexico, de los Santos spent eight days investigating the effects of improved infrastructure on trade in this rural Mexican village, documenting how the lives of previously interviewed families have changed and determining the extent to which technology has been adopted and adapted in the village.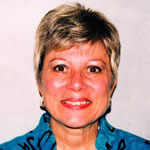 Sara Jackson
In May, Sara Jackson, assistant professor of international business, led a group of six students and two professors to the University of Regensburg in Germany to complete project work in economic development in support of the BIE grant. Jackson also was invited to and attended Mayor Phil Hardberger's San Antonio-Mexico Strategic Planning Committee meeting June 27.