feature stories
Patterns of Success
by Ashley Festa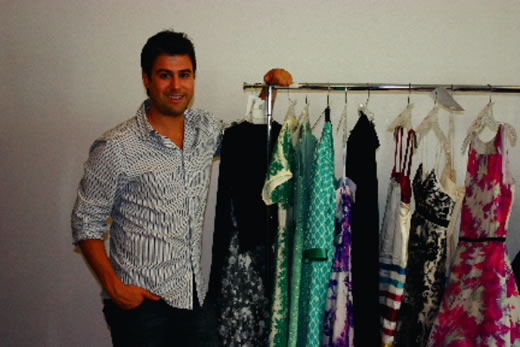 John Saldivar, a former UIW fashion design student, shows off the newest season of his own clothing line.
Watching John Saldivar's calm but purposeful presence at the photo studio in downtown San Antonio, you would know he is ready for this.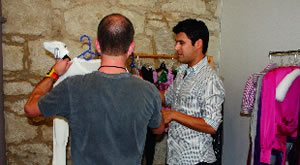 John Saldivar discusses clothing choices with Robert Mitchell during a photo shoot in San Antono,
Saldivar, a former student of the Fashion Design program at the University of the Incarnate Word, is living his dream in New York City as a fashion designer, creating his own clothing line and selling to celebrities, wealthy socialites and foreign customers.
As a child, Saldivar already had started to fall in love with fashion design.
"I was sewing since I was a kid; it was one of the first things I learned to do."
He remembers himself at age 5 wanting a specific toy that he couldn't find anywhere in stores. So, he decided to sew it himself. At that age, though, and even as a teenager, he didn't realize it could be a career, and that one day, maybe his wildest dreams could come true.
"I love making beautiful things. It's so great to get an idea and suddenly see it."
- John Saldivar
Today, he has Fall/Winter 2007 and Spring/Summer 2008 lines of his own designs, two professional photo shoots as a designer under his belt and is creating his second promotional publication.
At the studio, he has a coordinator working to organize the shoot and keep everyone on schedule. There's also a hair stylist, a makeup artist, a professional model, a professional photographer and an intern. It's clear this is no longer just a childhood fantasy.
After Saldivar created several designs for the university's annual Cutting Edge fashion show in 2001, Robert Mitchell '94 BA, a former UIW professor and the man Saldivar hired to produce his most recent photo shoot, helped him to create a portfolio.
"One thing I always say to students… it's a lot of who you know that gets you there and what you know that keeps you there," Mitchell said. He knew Saldivar had the talent to become a famous designer, so he helped him make the connections.
In December 2001, Mitchell called Saldivar to assist him with a fashion show he was producing in New York. Saldivar said he was only "picking up pins" but that the experience was unbelievable.
"From the moment I arrived here, I started taking notes. Where do they get their knits from, where do they get their fabrics from?" Saldivar said. "I feel like I learned more in the first two days than I did in my entire life."
While in New York, he met and apprenticed for fashion icon Oscar de la Renta. It was through de la Renta that he met Vogue's editor-at-large Andre Leon Talley who hired Saldivar as his personal assistant. Saldivar currently works with Lucien Pellat Finet, a Paris-based designer, as the director of public relations for LP-F North America while also creating his own designs.
"I love that every season, everything is new," Saldivar said. "All of a sudden one day, you clear everything off and start over. And that's my favorite thing. It's always a new project."
His fashions range in price from about $600 for more simple knit tops to more than $23,000 for intricately designed, hand-embroidered pieces. But who can afford such luxury?
"I'm selling to crazy people," he said.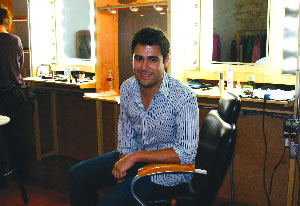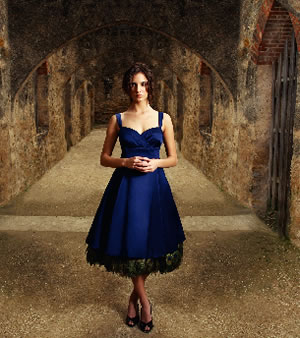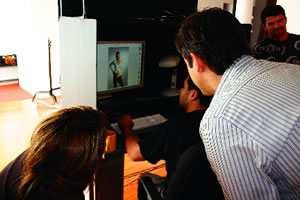 Top: John Saldivar talks about his work at a recent photo shoot in San Antonio.
Middle: One Saldivar's designs is a dress with peacock feathers layered around the hem.
Bottom: Saldivar evaluates photos from his most recent shoot with his production team.
Most of his clients are celebrities or foreign and socialite clientele with the means to buy such high-priced clothing. The main purpose of the designs is to get attention for his line so that one day, he will be able to create a lower-end line and sell to department stores.
"It's what he's doing right now on his own that's going to keep him out there," Mitchell said.
Already Saldivar has received a lot of media attention, including articles in Women's Wear Daily and the New York Post. He's very proud of a dress he created with peacock feathers layered around the hem of the skirt that is in the running for a Scarlett Johansson cover of Elle magazine. A few pieces from his collection were recently purchased for the upcoming Sex and the City movie that is in production, and in December, he is looking forward to the publication of an article in Elle Japan.
For now, he is involved in every miniscule step of the creation, all the way down to selecting buttons and zippers. That's the most tedious part of the job, and it can get frustrating, he said. But most of what he does is a lot of fun for him.
"The colors are my favorite," Saldivar said. "A lot of people travel and get a theme. For me it is always color. I pick the palate, and then I go from there."
After choosing color, he creates the sketches and the specs for a design. Then the idea makes its way through the process to becoming a garment, from designer to pattern-maker, to sample-maker and eventually to a factory where it can be produced in larger quantities.
His whole career path has been a process.
"I felt like I had an advantage because I've been doing it so long, since I was a child," he said.
One of his favorite professors, Dr. Annemarie Walsh, who retired this year from the Fashion Department, called him a very gifted student. "We knew he was going to be a star. He was always very, very creative."
However, she said, it wasn't only his talent that took him to where he is today.
"John had a very firm belief in himself and what he wanted to do, and he never gave up on that," she added.
While studying at UIW, he participated in the annual Cutting Edge fashion show, where students are tasked with creating at least eight designs that encompass their selected theme.
"Getting to do that was such a blast for me. It finally sealed the deal," Saldivar said.
For his project, Saldivar produced 10 pieces for a women's wear collection using silks and velvets. It was his first taste of implementing his vision and seeing his designs on actual models.
"I love making beautiful things. It's so great to get an idea and suddenly see it."