Feature stories
Leading the Way
by Ashley Festa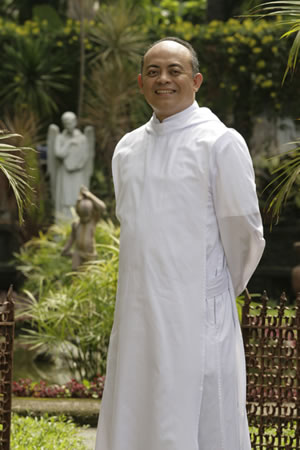 For the first time, a student graduating from the University of the Incarnate Word's doctoral program has taken a position as a university president.
Fr. Mateo Ma. J. De Jesus, OSB, who graduated from the university's international education and entrepreneurship program, became the 21st rector-president of San Beda College in Manila, Philippines. In fact, he was chosen for the position before he was able to defend his dissertation, which he had to do from Manila.
Fr. Mateo, affectionately known at UIW as Fr. Al, is working to achieve the Level IV category for institutions of higher learning in the Philippines for San Beda College, the highest category possible in connection with the status of a university. He explained that attaining the Level IV category will benefit the school by helping to expand the level of research, strengthen community outreach and begin exchange programs both in the country and abroad.
Although he is working to enrich the school, he knows that the institution itself is not necessarily the most important part of his work. The advancement of the
students is a big part of the job.
"My vision is to journey with the members of the academic community and be filled with life-enriching experiences that will make the biggest difference in their future. With our Bedan education, they will not only make a difference in the lives of others but will also be the difference themselves."
Fr. Mateo's former adviser, Dr. Patricia Watkins, vice president for international programs at UIW, confirmed that the new rector-president has the character and
qualities appropriate for the school's needs.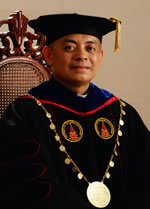 Fr. Mateo wears the UIW insignia at his investiture ceremony.
"It takes a lot of insight, a lot of energy and caring about people" to be president of a university, Watkins said. "It's not the building that makes a university; it's the people."
She described Fr. Mateo's new job at San Beda College, which already is functioning as a university, as "all-encompassing" and "energy-draining" and said that his attitude would help him in the position. "That sense of humor, that smile all the time… keeps you sane."
Indeed, the speech he gave at his investiture was peppered with humor. "It never occurred to me that in becoming a university president I'd be receiving so much bling," he joked, referring to a gold medallion he wore at the ceremony.
In his speech, Fr. Mateo highlighted three qualities represented by San Beda College: faith, knowledge and virtue.
He emphasized his dedication to upholding the university's faith mission. "The faith intent of our institution's identity is nonnegotiable. … In an era of negotiation, compromise and consensus agreement, there is still a need for the nonnegotiables that determine identity and being of institutions."
Fr. Mateo stressed, though, that he realizes the need to reach out to other countries and faiths as students and faculty.
"This is what I call a global spirit," he said. "A kind of mindset that says we live in a world without walls, a reality made possible by advances in technology and made necessary by needs that do not end at borders."
The rector-president fondly recalled the time he spent at UIW and emphasized the great impact his education had on him. He remembered in particular one class, called Systems of Belief, which "gathered students coming from five continents and speaking six different languages. The class was on cross-cultural communication and understanding. I was never the same from then on."
During his dissertation defense, he described UIW's impact on him.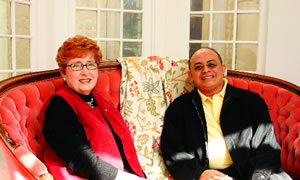 Fr. Mateo enjoys some time in San Antonio visiting with one of his former advisors, Dr. Pat Watkins, vice president for international programs.
"I expressed my awe at re-learning and appreciating more deeply such values as sensitivity for other peoples' needs and aches, openness to the variety of human responses that enrich one's understanding of life, profound respect for other peoples' aspirations and greater faith in the Creator," he said.
He said his experience at UIW was greater than any syllabus could hope to express. The program helped him face his fears and deepen his cultural understanding. He chose UIW over two other Catholic institutions because the international education program offered specific objectives he believed would prepare him for leadership roles in schools, although the role where he ended up was unexpected.
His Abbot and other brothers in the community wanted him as the leader of the vision that San Beda College had recently updated. He, on the other hand, had to confront his fears and feelings of inadequacy, he admitted.
After the nomination process, his name along with two others was submitted to the school's board for consideration for rector-president. The board vote showed overwhelming results supporting him for the position. He formally began the position April 15 and defended his dissertation at UIW at the end of May through teleconferencing from Manila.
Throughout the more than six years he spent away from home, he said, he missed his family very much because he felt as though a piece of his heart was left back in the Philippines. But at the same time, "there was not so much sadness since the other half of my heart has strongly been planted in the rich soil of San Antonio, Texas."