Meet The board
Meet the Board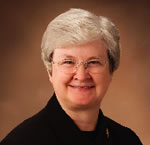 UIW Board of Trustees member Sr. Anne Munley, IHM, celebrated a milestone in October when she was inaugurated as the 11th president of Marywood University in Scranton, Pa. An active member of the Marywood community for many years, she previously served as director of planning and institutional research, coordinator of title III and assistant professor of sociology.
Though her involvement in the educational field is longstanding, it was her position as president of the Congregation of the Sisters, Servants of the Immaculate Heart of Mary in Scranton, Pa., that brought her to the UIW board. While serving as the president of the Leadership Conference of Women Religious, she had the opportunity to interact with many congregations.
At the urging of Sr. Teresa Stanley, CCVI, she joined the UIW Board of Trustees in 2002. As a trustee, Sr. Anne is part of the policy-making body of the university that establishes strategies and develops new visions for the university.
Throughout the years, she has continued to work with the Sisters, including delivering an address at their Mission conference about a year ago.
"There is wonderful energy and overlap… between the universities," Sr. Anne said. "I have great admiration for the Sisters and the Mission."
She called her relationship with the University of the Incarnate Word "mutually enriching."
"Education is the greatest form of empowerment there is," Sr. Anne said. She noted UIW's "consistent global perspective" and its "emphasis on international education."
Sr. Anne holds a Ph.D. in sociology from Boston College, a Master of Arts in sociology from the Catholic University of America, and a Bachelor of Arts in sociology, history and government from Marywood College.
For more information about Sr. Anne's recent inauguration, visit www.marywood.edu.
---
New Board of Trustees Members
Dr. Beth C. Senne-Duff
As president of the Faculty Senate, Dr. Senne-Duff serves as the liaison between the faculty and administration. She is an associate professor in the Nutrition Program and advises nutrition graduate students in academic matters as well as serving as program liaison with the graduate council. She holds a Ph.D. in human nutrition from Colorado State University.
Bob Ferguson
Since November 2005, Ferguson has worked as the president for state legislative and regulatory affairs at AT&T Inc., overseeing all external affairs and regulatory operations in the 50 states and managing the company's public policy organization. He has held a number of key leadership positions at SBC companies, which acquired AT&T in 2005. He holds a Bachelor of Science in communications from Evangel College in Springfield, Mo.
Gayle Marie Benson
Benson has established a successful design and construction business, developing condominium units, residential units and improvements. Additionally, she is a director of the New Orleans Saints NFL team; a director of Bensco of Texas, an automobile, real estate and banking firm; and a director of Bensco of Louisiana, an automotive and real estate firm.
Kevin C. Moriarty
As student representative, Moriarty serves as the president of the Student Government Association and the vice president of the UIW Accounting Club. In addition to his service at the university, he is a student member of the Texas Society of Certified Public Accountants and a member of the National Association of Realtors. He is working toward his Bachelor of Business Administration degree which he expects to complete in December. He is also working toward a Master of Science in Accounting, which he expects to receive in May 2009.
Sr. Teresa Stanley
In 1990, Sr. Teresa became senior associate for Mission Services in the division of Theology, Mission and Ethics on the staff of the Catholic Health Association. From 1996 to 2002, she served on the University of the Incarnate Word Board of Trustees. She holds a Bachelor of Science in Nursing from Incarnate Word College. She
completed her master's and doctoral degrees in nursing education administration and psychiatric mental health nursing, respectively, from the Catholic University of America in 1965 and 1978. She holds an honorary Doctor of Humane Letters degree from UIW.
Winell Herron
Herron serves as group vice president of public affairs and diversity for H-E-B. She is responsible for leading the organization's initiatives in these areas. Herron earned a bachelor's degree in business administration from the University of Texas at Austin and an Executive MBA from the University of Texas at San Antonio.