feature stories
Making a Difference
The University of the Incarnate Word is blesssed to have many benefactors who give generously to help advance the Mission of the university. New schools of study, scholarships, athletic events, facilities, and campus beautification are only a few of the areas where donor dollars are put to good use at UIW. This issue of The Word magazine thanks those who have made these efforts a priority through their charitable gifts. The following stories share some of the reasons why our benefactors believe giving to education is so important.
Cheerful Giving
Conscientious community members often strive to give back to the communities of which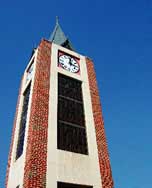 they are a part. Many people choose to give to their church. Others give to charities. Some prefer to make donations of food or clothing, and some give of their time and services. There are hundreds of causes and occasions worthy of generous gifts. Education is one such worthy cause, and each year many people donate generously to the Mission and expansion of the University of the Incarnate Word.
As the vice president for institutional advancement at UIW, Sr. Kathleen Coughlin, CCVI, often works with benefactors to make the university's goals come true.
"The heritage of UIW is inspiring, all UIW has become since its founding and all that guides us in our Mission," Sr. Kathleen said. "I believe donors can put their trust in the university and know that their gifts will be used well, wisely and make a difference for our students."
There are a variety of reasons why so many people choose to give to UIW. There are some benefactors who give in support of the countless opportunities UIW provides for students to reach their goals.
"The university continues to create opportunities for more young people from this city and this area to broaden their horizons," said Charles "Charlie" Lutz III, director and chief operating officer of The Intercontinental Cos., an independent investment management firm and a member of the UIW Board of Trustees.
Emily Thuss, another board member, agrees. She believes that education is "the pathway for a young person to have options and success in life."
Thuss also thinks the university is "a very positive and constructive atmosphere for a young person to live in." At the same time, though, the environment also teaches students about "the obligations and privileges of living in a community," she said.
The atmosphere at the university is important to many of UIW's benefactors. Lutz chooses UIW in particular because "you get a sense that the students are truly engaged and happy to be there."
As essential as the students are to the success of the university, the leadership also plays an important role. Dr. Ruth Eilene Sullivan, a former member of the board, whose family has a long history of supporting the university dating back to 1902, said she most admires the direction the Sisters of Charity of the Incarnate Word and President Dr. Louis J. Agnese Jr. have taken.
"The leadership impresses me very much," she said. "When Lou first came there, I remember him saying… a mind will work better if it's in pleasant surroundings."
Sullivan thought it was a wonderful idea to create a beautiful place to work and study. She especially enjoys the annual Light the Way event each November, which involves not only the university community, but the entire city.
The university's many events are only one way in which UIW gives back to the community, and as businessman Charlie Amato explained, it is easy to give to an institution that is also very giving itself.
"UIW gives a large amount of scholarships each year to deserving students, and it makes me feel good to know I'm helping to make a difference in their lives," said Amato, the chairman of Southwest Business Corporation.
"I believe individuals give because they want to make a difference in this world. It is indeed more blessed to give than to receive. The joy received is tenfold what is given," Sr. Kathleen said.
Thuss said she gives to other causes, too, but they all usually have one thing in common: "the individual good and public good."
She isn't the only one who feels this way.
"Those people who have been blessed in many ways also have the opportunity to give, and I feel it's important to give back to the community we serve," Amato said.
Sullivan agreed.
"I think that if you've been blessed, you have to be good stewards of what you've been given. And part of that is sharing and caring. I get great pleasure out of seeing young people benefiting from my good fortune."
Blessings Come Full Circle
Blessings often arrive unexpectedly, and both Dr. Jerome Schmidt, a UIW scholarship donor, and Camille Agbayani, a senior nursing major and scholarship recipient, have experienced such blessings.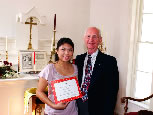 Camille Agbayani visits with Dr. Jerome Schmidt who created the Rita McCarthy Schmidt Scholarship in memory of his wife. Agbayani was awarded the scholarship, which gave her hope to afford the remainder of her college education.
The summer before her junior year of college, Agbayani started wondering how she was
going to pay for the remainder of her education. Her brother was about to begin college, and it was becoming more and more difficult for her mother to afford tuition. Though Agbayani's father had passed away when she was young, her mother had promised to do her best to put their children through school.
Agbayani recalls praying one night and looking at her account online the next day. To her surprise, she saw a payment labeled Schmidt Scholarship applied to her account balance.
"This money just came and it was such a blessing for me and my family," she said.
Twenty years ago, Dr. Jerome Schmidt established the Rita McCarthy Schmidt Scholarship in memory of his wife, who was a nurse.
"Rita and I were never able to have children of our own. I knew that we could bless others by helping them through school," Schmidt said.
As a retired military officer and microbiologist, Schmidt recognized the value of discipline, hard work and a good education. By establishing the scholarship, he aimed to benefit students committed to their studies. When Agbayani was a sophomore in high school, her mother suffered a stroke. Agbayani and her brother were forced to make all the medical decisions and that's when she knew she wanted to be a nurse.
"I realized I could care for other people in the same way," said Agbayani, who expects to graduate in December 2008.
When Agbayani had the opportunity to meet Schmidt, they shared stories and realized they had a lot in common. Schmidt recalled when relatives hired him to work in crop fields during the summer, and years later, he realized they paid him enough to afford tuition.
"I can't believe someone would do this for me," Agbayani said, with a tear in her eye.
Schmidt said, "They did that for me!"
Agbayani's favorite and most rewarding experience as a nursing student has been her Health Promotions class, in which she worked with seniors to alert them about cancer, blood pressure and foot care.
"I want to be successful. I want to do for others what others have done for me," she said.
For information on establishing an endowed scholarship, please call (210) 829-6072.