Message from the President
Dear Friends: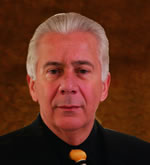 "We have several projects on tap that will help us better accommodate our expanding universe."
I am very pleased to welcome you to the annual donor's issue of The Word, our way of saying "Thank You" to the many special people from around the world who contribute to the continued betterment of the University of the Incarnate Word. The cover of the magazine features several of our friends from all walks of life who played a prominent role in what was another historic year for us.
Among the highlights: We completed a new residence hall/parking garage behind the International Conference Center to house the growing number of students who want to live on campus. We dedicated the building that houses the Feik School of Pharmacy, which is named in honor of John and Rita Feik. And with the help of Gayle and Tom Benson, who own the New Orleans Saints, we launched the first football program in our 126-year history.
More recently, we surpassed the 6,000 mark in total enrollment for the first time (6,007), becoming one of just four private universities in Texas with overall enrollments of at least that many students (and the only one that's Catholic).
What's equally notable is that among the four largest private universities in the state, UIW is the only one, by a wide margin, whose racial and ethnic student composition represents the Texas of today and tomorrow rather than yesteryear. We also have the highest number of Hispanic students of any private university in the state and third highest number of international students (behind SMU and Rice).
Our goal is to attain a full-time undergraduate enrollment of 3,000 students for an entire year. We had 2,891 this fall. It's our belief that sustaining a base of 3,000 full-time undergraduate students will help us weather any unexpected problems that may arise in the educational marketplace due to forces beyond our control.
We have several projects on tap that will help us better accommodate our expanding
universe. On the hillside by the ICC, we will be building a nine-level enclosed parking garage capable of accommodating nearly 800 cars and a five-story residence hall with room for 209 students.
The Gayle and Tom Benson Fieldhouse, which will hold up to 3,000 spectators, will be home to the football teams from UIW and St. Anthony Catholic High School as well as the men's and women's soccer teams.
I encourage you to read the rest of this issue of The Word catch up on what else has been happening at UIW. Please remember, it's because of your commitment to our
community that we can continue fulfilling Incarnate Word's goal of offering students the best possible educational opportunity within a context of faith. Special blessings on you and your loved ones throughout the remainder of 2007.
Best Wishes,
Louis J. Agnese Jr., Ph.D.
President