Cardinal Athletics
Soccer Star is in a League of His Own
by Carrie E. McCullough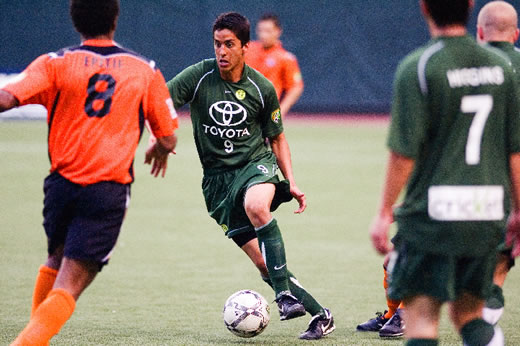 Honors seem to follow Ricardo "Kiki" Lara, but so does giving back.
An academic All-American for two years at the University of the Incarnate Word, Lara was recently named the Portland Timbers' 2007 Community Player of the Year for his work off the field and within his community.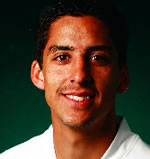 After three years playing soccer with the Minnesota Thunder, where he was named Thunder's 2006 Humanitarian of the Year, Lara has just finished his first year with the Portland Timbers and his best season in professional soccer. The team made it to the semifinals, an accomplishment he said was enhanced by the fans.
"The fan base is so great. We had about 6,000 to 7,000 fans for a normal game," he said. "For the last regular-season game, we had about 15,800, and the
semifinal game we had about 11,000."
What makes Lara unique is he doesn't just say he appreciates the fans; he shows it, by giving back to the community that supports him. He received the Timbers' award for working with the team's camps and clinics, lending a helping hand with a local elementary school reading program and helping to acquire soccer balls for another elementary school. This is in addition to the visits he's made to the children's hospital in Portland and his fundraising work for the Muscular Dystrophy Association.
It isn't surprising that Lara, who earned NCAA Division II All-American status for three straight years at UIW, became a success as a professional player. But he still appears to appreciate every moment of it.
"Yes, it (becoming a professional soccer player) was a hope of mine, and it was always my intention. But it wasn't guaranteed," Lara said.
Lara also enjoys all the places soccer has taken him since graduating from UIW with a bachelor's degree in math. He started his post-collegiate career in Seattle coaching at Washington State University where his high school sweetheart, Ashley, was a student. He married her in July 2004.
"She was two years behind me, and the head coach was kind enough to add me to their staff (during the offseason)," Lara explained. "We lived a very simple life."
They then made their way to Minnesota, where they lived during his years with the Thunder. Taking every opportunity to give back to others, he even spent one offseason
coaching kids in San Antonio.
Now, during the offseason, he continues to feed his passion for coaching. Sometimes that includes coaching with his mother and brothers at the family soccer club in New Mexico. This year he'll be coaching in Portland.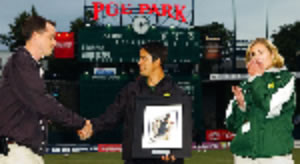 UIW graduate and the Portland Timbers' 2007 Community Player of the Year Kiki Lara accepts his award Sept. 16.
There seem to be very few drawbacks for Lara when it comes to living his dream of professional soccer, except that it keeps him from his other dream - teaching math.
"I'd like to teach. But playing soccer, I can't have my own classroom," he explained. "There's seven months to the regular season, maybe eight if you go to the semifinals and finals. They can't hold a class for me that long."
As for his educational future, he does hope to return to school to earn his master's degree, either in math or education.
When the conversation turns to UIW, his tone makes clear how fond his memories remain, especially when asked what advice he would give to current students.
"Take advantage of all the resources. I loved my experience," he confessed. "I didn't miss a class. I was real serious about every class I took."
Finally, when asked what one thing he would change from his college years if given the opportunity, his answer was quick. "I would beat Midwestern in the Sweet 16 my senior year," he replied with a chuckle.