Truly, in the Sign of the Word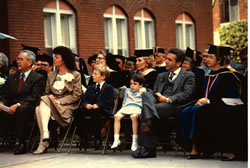 From 1986: Louis Agnese Sr., Mickey Agnese, Louis Agnese III, Nancy Agnese, Dr. Louis Agnese Jr., Sr. Margaret Slattery, Chancellor
Michaeline Huston Agnese has been the First Lady of the University of the Incarnate Word since 1985. But unlike the First Ladies of Washington, the job and the title did not end after eight years.
First Lady of UIW includes wife, mother, daughter, hostess, scheduler, tour leader, driver, shopper and many other duties. Add to that a life as a volunteer, board member and community resource person. A tall order? Indeed, but Mickey, as she is known throughout the community, has been up to the task 24/7.
So much so that at their March 7, 2003 meeting, the University's Board of Trustees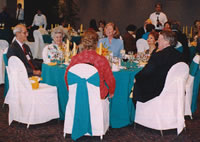 unanimously voted to award her the university's Insigne Verbum Award, an award reserved for those whose life reflects the Mission of the institution and the Sisters of Charity of the Incarnate Word.
Miraculously kept secret for months from both Dr. and Mrs. Agnese, the distinctive award was finally presented to her in June at the dinner for the Board of Trustees and the Development Board, held this year in the new Sky Room on campus.
Like each recipient, each award is also one of a kind. A handsome porcelain and gold version of the Incarnate Word steeple logo is handcrafted by artist Nancy Pawel, and assembled on campus in a frame designed and constructed by Steve Heying, Director of Facilities Management, who has also been a member of the campus community since the late 1980's.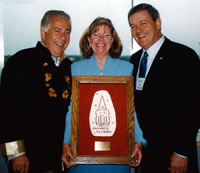 Mickey is a native of New Mexico who met husband Lou during their college days in Kansas. Their active academic life together included time at Gannon University in Pennsylvania, and then Sioux City, Iowa where Lou was named Vice-President of Student Affairs at Briarcliff College, a Franciscan institution.
When Lou was named UIW president in 1985, becoming one of the youngest college presidents in the nation, Mickey became one of the youngest First Ladies. Their son, Louis III, was about to enter grade school at the time, while daughter Nancy was still in pre-school.
This past May was a busy time for the first couple. Besides the normal end of the semester activities at UIW, both children were honor graduates themselves - Louis III from the University of Texas at Austin School of Law, and Nancy from Texas A&M University-College Station where she will now continue in the A&M College of Veterinary Medicine.
Yet it has all been part of Mickey's daily schedule for nearly two decades – wife, mother, official hostess, community volunteer. So does all this sound like a hardworking UIW employee? Indeed. Except for the paycheck.