Dear Friends: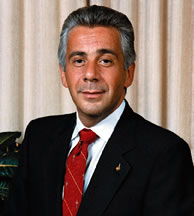 The cover of this issue of The Word features the large yellow ribbons that adorn the flagpoles at the corner of Highway 281 and Hildebrand Ave. We erected the ribbons along with several banners that ask for the safe return home of the coalition troops in Iraq (the table of contents on the next page features a photo of one of the banners). The University wasn't immune to the conflict, as the 19-year-old brother of one of our students became the first soldier from San Antonio to be killed in action in Iraq.
We honored the sacrifice of Private First Class Anthony Scott Miller by planting an oak tree and erecting a bronze plaque in his memory. Because Scottie, as he was known to his family, was considering attending college and majoring in business after completing his tour of duty with the Army, we planted the tree adjacent to the Gorman Business and Education Center as a living tribute to him. In addition, we awarded his older brother, Patrick, a scholarship in order to help him fulfill his academic dreams at our University.
This past spring was a memorable one for us. On the morning of commencement, the School of Business was renamed the H-E-B School of Business. Given all of the corporate scandals that have rocked our country in the past few years, we are proud to be able to name the School of Business in honor of H-E-B, which not only has provided the University with support for numerous activities through the years, most notably the annual Light The Way ceremony, but, more importantly, has demonstrated itself to be a responsible and ethical leader in the business community.
This spring we also broke ground for the new Math, Science and Engineering complex, a five-story facility that will nearly double the existing space of the current building. Both phases of the $14 million project are scheduled for completion in 2006. This project would not have been possible without all of the hard work by Tom Plofchan, our former Vice President for Institutional Advancement. By the time of his death in December of 2001, Tom had raised $10 million of the $14 million needed for the project, and along the way had assembled the largest group of individual donors in the history of Incarnate Word.
I encourage you to read the rest of The Word for more information on all of our recent activities, whether it was our spring graduation ceremonies or the Fiesta Fashion Show. In the meantime, let me thank all of you for your support. It's that support that allows us to continue fulfilling Incarnate Word's goal of offering students the best possible educational opportunity within a context of faith. Special blessings on you and your loved ones throughout the summer of 2003!
Best wishes,
Louis J. Agnese, Jr., Ph.D.
President