San Antonio's Runway Fashion Show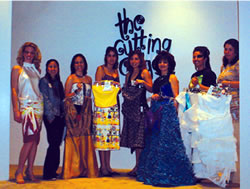 For 23 years the Fashion Design Program at The University of the Incarnate Word has directed and produced a fabulous and breath-taking runway fashion show, evolving in that span from a small-scale production into one of the signature events of Fiesta.
The entire production is created by students in the Fashion Design Program and staged on the beautiful grounds of the UIW campus. At this year's show, eleven students showcased their garments, which represent the final projects of their educational journey. For these students, this is their grand introduction into the fashion industry and their turn to shine.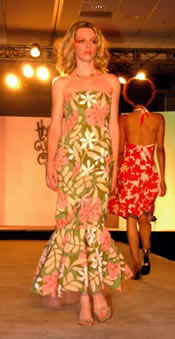 So, who is the person behind the curtain, guiding these students? His name is Robert Mitchell, a 1994 UIW graduate of the Fashion Design Program who knows first-hand the hard work and dedication that these students put forth every year.
"I love to see the audience's facial expressions when they attend the event for the first time," said Mr. Mitchell. "People are expecting something low-key, not anything this extravagant. One local retailer exclaimed, 'It was one of the most amazing things I have ever seen.'"
For over 10 years, Mr. Mitchell has been engaged in some aspect of the annual fashion show. "I was involved as a student and now I'm teaching them what I learned," said Mr. Mitchell, who has been teaching the Fashion Show Production class at UIW since Spring 2001.
"I am extremely proud of this year's students. They came together and worked as a team," he added. "Usually there is a lot of competition and secrecy among the students. But this year, everybody pulled together and the efforts were phenomenal."
This year's show was held in the new Sky Room, a facility that opened last fall. More than 750 people attended, everyone from local retailers to high school students interested in pursuing a career in the fashion industry and who were eager to see a live runway show.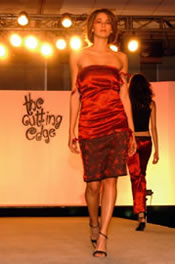 "One of our main goals for putting together this show is to recruit students," said Mr. Mitchell. "We want to make the community aware of our fashion design program."
Ten years ago there were less than a dozen students enrolled in the program. That number has since escalated to 135 students, proof that UIW is succeeding. Past students are now working in places such as New York, Los Angeles and Miami. They are venturing into many different aspects of the fashion industry, while others stay in San Antonio and open their own businesses.
What does the future hold for this show? "We are looking into advertising and soliciting corporate sponsorships for underwriting privileges," said Mr. Mitchell, adding that UIW would like to partner with corporations so they can cover the cost for high school students to attend the show.
"This fashion show is a labor of love, it is more than a job," said Mr. Mitchell. "I have committed myself to make it a viable program."
Things seem to be working, as UIW is now home to the largest Fashion Management Program in the state of Texas.