ADCaP Program Reaches Milestone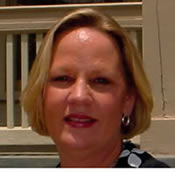 Deborah Green
At one time, a college education seemed as distant to Deborah Green as the sun in the sky. Family obligations and a job prevented her from becoming a full-time college student.
Fortunately, she and others like her have an alternative – the Adult Degree Completion Program (ADCaP) at the University of the Incarnate Word.
For the past eight years, the ADCaP program has allowed people like Ms. Green to fulfill their academic dreams without disrupting their lives by taking classes in the evening. This spring, the program reached an important milestone – it graduated its 1,000th student.
"It was exciting to hear Dr. Denise Doyle (Vice President for Academic student Affairs) announce the 1,000th graduate of the ADCaP Program, and I thought it was appropriate that it was she that made the announcement after beginning the program in 1995," said David McIlvoy, Dean of the School of Extended Studies.
Ms. Green, a Business Requirements Analyst at USAA, says the convenience of the ADCaP program gave her the opportunity she needed to complete her Bachelor of Arts degree, along with changes in the business environment and strong support from her employer. USAA provides tuition coverage for its employees, and is one of only a few local companies that participate in similar programs.
"My participation in the program instilled a keen sense of community and helped me to recognize talents and gifts that I could contribute to other individuals," said Ms. Green.
Now the ADCaP program will serve an even larger population, as in May it began offering weekend courses at the Santa Rosa Center for students who work in the evening during the week.
"We surveyed our current population in the School of Extended Studies about adding Saturday classes and they responded with a resounding 'yes,'" said Mr. McIlvoy. "I am excited that we are now able to provide this additional option."
According to Mr. McIlvoy, the new program will not only offer current students more flexibility in scheduling, but will also attract new students who were unable to attend classes.
Three programs are available at the Santa Rosa Center - the Bachelor of Business Administration, the Bachelor of Applied Arts and Sciences, and the Bachelor of Psychology of Organizations and Development. For more information about the weekend courses or the ADCaP program, check out the ADCaP Web site at www.uiw.edu/adcap or call (210) 829-3889.