Dear Friends: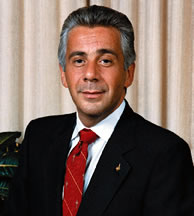 We are pleased to feature the new Gorman Business and Education Center on the cover of this issue of the Word magazine, a striking facility named in honor of longtime UIW benefactors Tena and Jim Gorman.
The building, which houses the School of Business and the Dreeben School of Education, was dedicated last fall amid a festive ceremony featuring Tena and Jim along with a number of VIPs. Among them were Assistant Secretaries of the Air Force Michael Dominguez and Michael Montelongo and Deputy Assistant Secretaries of the Air Force Kelly Craven and Shirley Martinez, who is a graduate of UIW. Also in attendance were the Rev. Buckner Fanning, who provided the invocation, and musician Rick Cavender, who sang a stirring rendition of the Lee Greenwood classic, "God Bless the USA."
The Gorman Center is also the home of the Dennis O'Malley Amphitheatre, which was dedicated in January. Dennis, a local civic and business leader, served as vice chairman of our Board of Trustees until his untimely death in December. Future students will have an opportunity to learn about Dennis and what he meant to Incarnate Word and San Antonio through a plaque that hangs beside a photo portrait of him in the amphitheatre.
In a timely nod to current world events, Sister Martha Ann Kirk, Professor of Religious Studies, is one of the recipients of this year's Peacemaker Awards from the San Antonio Bar Foundation. The prestigious award recognizes individuals who work to improve our local community. Sister was recognized for her work in building bridges between people of the Christian, Jewish and Muslim faiths. In addition, Dr. Denise Doyle, Vice President for Academic and Student Affairs, was chosen to be a part of the National Network Board for the Lilly Fellows Program. The purpose of the program is to keep the mission of small private schools like ours alive across the nation.
I encourage you to read the rest of The Word for more information on all our recent activities, whether it's about the Gorman Center or Armando Quintero, the new Spanish-language voice of our men's basketball team who was featured in a story on the Fox Network that aired nationally during the holidays. In the meantime, let me thank all of you for your support. It's that support that allows us to continue fulfilling Incarnate Word's goal of offering students the best possible educational opportunity within a context of faith. Special blessings on you and your loved ones throughout 2003!
Best wishes,
Louis J. Agnese, Jr., Ph.D.
President