University of the Incarnate Word Appoints a New Vice-President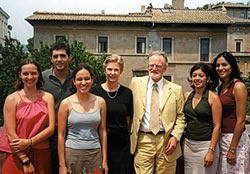 From left to right: UIW Study Abroad Students with Dr. Pat LeMay Burr, UIW Vice-President of International Programs (4-L), and Ambassador James Creagan, President of John Cabot University in Rome Italy
In recognition of the growing importance of globalization at the University of the Incarnate Word, Dr. Patricia LeMay Burr was recently named Vice President for International Programs.
"I am honored to be a part of the internationalization of the UIW campus and programs," said Dr. Burr. "Our Study Abroad Program is growing rapidly, and the international Mission that we all believe in is becoming a greater reality across our campus with each new international program we develop."
Dr. Burr has been with UIW since 1988, and has also served as Dean of the School of Business and Dean of International Programs. She has been instrumental in forming agreements with Sister Schools around the world, offering students a wide variety of exchange opportunities with universities in countries such as Japan, Italy and South Korea.
"Oversight of the many international activities is a growing responsibility," said Dr. Lou Agnese, President of Incarnate Word.
"Nine percent of our enrollment is comprised of international students, we're moving forward to offer degrees in Mexico City, we already offer degrees at China Incarnate Word, and we have sister school agreements with dozens of universities around the world."
Dr. Burr, whose professional career spans over 25 years, was selected a Fulbright Scholar in 2001-2002, teaching at Monterrey Tec in Monterrey, Mexico. While there, she presented lectures on electronic commerce and international business issues to some of the brightest business students in Latin America.
She holds a Ph.D. in Business from the University of North Texas. Dr. Burr has also studied internationally at La Sorbonne in Paris, France, and has taught and worked in various countries, including Ukraine, Nicaragua, Brazil, Mexico, Guatemala, as well as several countries in Asia.
UIW also appointed a new Vice President for Institutional Advancement, Sister Kathleen Coughlin. Please see page 8 of the Class Notes section to read more about Sr. Coughlin.