Living the Mission
The Mission of the Sisters of Charity of the Incarnate Word is as vibrant today as it was in 1881, thanks to the special people who keep its spirit alive throughout our campus.
One such person is Dr. Denise J. Doyle, Vice President for Academic and Student Affairs. Dr. Doyle, a native of Vancouver, Canada, joined the University in 1988 as a professor of religious studies, and became the Director of the Pastoral Institute in 1992.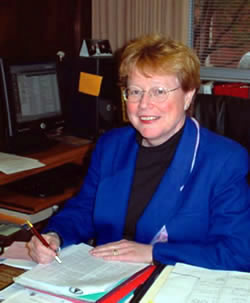 "It's an opportunity to find out more about what I can do to help our university."
Her drive and motivation led her to become the founder and first director of the Adult Degree Completion Program (ADCaP), which under her direction grew to over 800 students within the first five years.
" What excited me about starting ADCaP was that it would provide a much needed opportunity for people in our area to complete a college education," said Dr. Doyle.
Dr. Doyle has now added another accomplishment to her long list of endeavors – she was recently chosen to be a part of the National Network Board for the Lilly Fellows Program.
The program is a network of religiously affiliated private universities and colleges that is funded by Eli Lilly Pharmaceuticals. It grants support to private religious universities across the nation that strive to keep the mission of its original founders alive.
" The Lilly Fellows Network provides resources that come from generous funding in order to help private institutions define, articulate, and express their mission clearly," said Dr. Doyle, who will serve a three-year term on the board. She will join scholars from across all regions of the country to oversee projects, grants and workshops.
" The board needs to have a balanced representation of different regions and religions," she said, adding that she is committed to the idea of mission, and feels that serving on the board would be a perfect fit. "It's an opportunity to find out more about what I can do to help our university."
Despite her hectic schedule as one of the University's vice presidents, Dr. Doyle said one of her professional goals is to remain accessible to students.
" I really like working with students," she said. "Although there are many pressing realities at the University that I can't change quickly, it still gives me joy at the end of the day to have been able to help at least one student."