Laurita Grider Barber, BA '37, celebrated her 86th birthday and attended the Incarnate Word Academy Gala in Brownsville celebrating the Sisters of Charity of the Incarnate Word and Blessed Sacrament's 150 years in America. There were four alumnae there from the 1930-1933 classes. Her classmate at both schools, Elizabeth Browne O'Connor, BA '37, lives in Indianapolis and did not attend. Laurita and her husband, Tom, celebrated their 63rd wedding anniversary on June 15th and they have three children, five grandchildren and two great-grandchildren.
Margaret Nottingham Fuchs, BA '38, earned a prize as the earliest IWC graduate at Homecoming 2003 and also the alumna with the most grand and great-grandchildren. Naturally Margaret selected the prizes designed for the most recent babies.
Elizabeth Aman, BA '42, spent some time in Washington, D.C. this year recuperating
from surgery.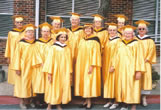 Cecilia Boecker Bengele, BS Elementary Education; Sister Mary Mechtilde Goertz, OSB, BSN; Anna Louise Tschirhart Hans, BSN; Vertice Hercek Hill, BSN; Anna Garza Morales, BSN; Dorothy Afflerbach Psencik-Ferrell; Bachelor of Science in Home Economics, Med in 1982; Janet Alvord Ryan, BSN In Absentia; Margaret L. Breit Sauer, Bachelor of Science in Home Economics; Jo Ann Powers Schwab, Bachelor of Arts in History; Julianne Poth Semmes, Bachelor of Science in Education; Lucretia Borjas Tarpey, Bachelor of Arts in Chemistry; Esther M. Hoffman Wright, BSN, all 1953 were honored May 10th as the students call them, our "Golden Girls," representing the fifty year class at commencement, coming in from Florida, Illinois and various parts of Texas. They wore gold caps and gowns, were recognized on stage, received a certificate of congratulations in an original IWC diploma folder from Dr. Lou Agnese, and then went to lunch. Joining them was Martha K. Williams George, Bachelor of Science in Education, who was actually in this class, but finished a year earlier.
Lorelle Hoffman Jacobs, BA '54, and her husband, Richard, operate an international non-profit pro-life charity called "Gifts for the Unborn." They make up little life affirming gift packs of a pair of baby booties, a baby bath item and a small picture frame, which are given out, free of charge at the Crisis Pregnancy Center. They have given over 42,000 gift packs to more than 370 centers in all 50 states and 6 countries. In other news their daughter, Kristine, earned the MBA from the Harvard Business School and spent a week in the Boston area, and then a cruise from Boston to Bermuda.
Sister Teresa Stanley, CCVI, BSN '60, was awarded an honorary Doctor of Humane Letters degree at commencement on May 10th and she delivered the commencement address for the evening ceremony. After completing her master's and doctoral degrees, she became a faculty member at Incarnate Word in 1969 and then served as director and dean of the School of Nursing. She was elected General Superior of the Sisters of Charity of the Incarnate Word in 1996 and served until 2002, during which time she also served on the Board of Trustees. She continued serving the educational and healthcare systems through publications, research, leadership positions, and overall service, spreading the mission of the Sisters of Charity in all her work.
Sister Sarah Lennon, CCVI, BSN '61, moved to the CCVI community in Chimbote, Peru in February from Comas where she had been for four years. In Chimbote she'll be working at a clinic with Sister Juanita Albrecht, CCVI, BSN '71.
Pauline Finney Meagher, BA '61, visited the campus from Dublin at the end of April. She came across the Pond to celebrate her mother's 90th birthday held in McAllen. A tad late for Homecoming but she saw everything just the same.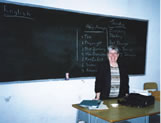 Sister Germaine Corbin, BA '62, spent the spring term teaching at China Incarnate Word. We are sure she has many experiences to share and will likely have many ideas for a forthcoming theatrical production. Many wondered which Sister would find more difficult-using chopsticks or finding the ingredients for her native New Orleans recipes. We are sure she got her orientation from Ann Marie Cowan Ozturgut, BA '01, Hilda Salazar Castro, BA '77, and faculty member Tim Henrich, who spent his sabbatical in China.
Vincy Ruffo Dunn, BSN '62, was one of five inductees into the National Association of School Nurses Academy of Fellows at the NASN annual meeting June 30, 2003. The highest recognition the members can receive is based upon significant, unique and extraordinary contributions that have had broad influence contributing to the advancement of the specialty practice of school nursing, statewide and nationwide.
Dolores Noguera Gresham, BA '64, was elected a State Representative for the State of Tennessee General Assembly, 94th District, which are three counties in southwest Tennessee.
Mary F. [Bitsy] Windrow Harris, BA Ed '64, is a public school administrator in Marble Falls, TX.
Kathleen McConaghy Campbell, BA '65, returned to D.C. from Korea last March and said she felt safer there than at the Pentagon. She said she felt that if the war impacted her travel she'd just get off in Japan and go shopping.
The University named Dr. Bernadette O'Connor, IWHS '61, BA '66, its 32nd Moody Professor on March 26. She will be the Moody Professor of Philosophy for the coming academic year. The Moody professorship reflects the level of scholarship, teaching excellence and community service, in and out of the UIW community that the recipient has attained throughout their time at the university. Bernadette returned to Incarnate Word in 1989 and since then she has served in various capacities, including Dean of the Division of Humanities and Fine Arts. "I was absolutely shocked and I am humbled when I think of in whose shoes I shall be standing - that is all the distinguished colleagues who have held this position over the years," said Dr. O'Connor. She has completed research on metaphysics, psychoanalytic thought, women's studies, and various justice and peace issues, but the students say she is dynamite in the classroom.
Sister Helena Monahan, CCVI, BA '68, PhD, JD, received the Latina Women in Action Religion Award in San Antonio last March. Sister Helena and alumna Sister Bette Bluhm were honored at the homecoming luncheon as the new Congregational Coordinator and Provincial Coordinator of the CCVI Sisters, and also present were former Superiors General Sisters Dorothy Ettling and Neomi Hayes, CCVI.
Sister Mary Pezold, CCVI, BA '68, former IWHS Principal and UIW trustee, was one of the nominees for a Catholic Women Award of the Archdiocese of St Louis. A woman nominated for this award is someone who gives much of her time and energy to the nurturing of others. She is a companion to the lonely, a comfort to the sorrowful, and a relief to the burdened.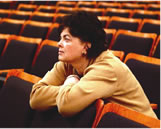 Linda Brown Raya, IWHS '64, BA '68, was one of ten chosen for a 2003 Texas Excellence Award for Outstanding Teachers by the alumni of the University of Texas at Austin. Chosen from hundreds of nominees statewide, Linda is the chair of the fine arts department of Highland Park High School where she has taught for thirty years – English, speech and drama. She is better known there as "Mama Drama" for her creative approaches to learning. She was Teacher of the Year in 1981 for her school district, and received the 1983 award for teaching by the North Dallas Chamber of Commerce. Linda says it all started at IWHS when a teacher urged her to be in a play, and there was no stopping her when she was at IWC with Maureen Halligan, Ronald Ibbs, Hon '71, and Sister Germaine Corbin, BA '62. She is still remembered for her role as Ruth in the Noel Coward comedy, Blithe Spirit. "My theatre teachers made me want to be the kind of teacher they were," she said in an interview for the Highland Park Bagpipe.
Sister Mary Carmel Smith, BA '68, MA '79, opened her online eChurchGiftShop on February 18th with artistic religious items for home and workplace. T-shirts, matted religious and scenic pictures, greeting Cards etc. New items to be added from time to time. Access at: http://SpiritualReflections.Catholicweb.com. Then click on eGiftShop to browse/shop.
Barbara Evans Hickok, BSN '71, is currently a public health consultant with the New Mexico Department of Health. Husband Jim retired from the Army in 1991 and they relocated to Albuquerque and their sons are now 29, 27 and 25.
Ann Lauder, IWHS '68, BA '71, is the new Principal of St. Peter Prince of Apostles School in San Antonio. Ann is happy to be back in the Brainpower family as an administrator and brings with her years and years of experience.
Mary Morriss Wiley, MA '71, suffered major heart attacks in February and had five bypasses. She is recovering nicely and is anxious to get back to her studio and resume painting.
Joan E. Moody, IWHS '72, BA '76, BBA, '90, earned the Cusack Award from the San Antonio Harp and Shamrock Society, a service award to those who have given outstanding support to the society. Joan has been working with the coordination of Irish and Celtic organizations in Texas and worldwide, and was most helpful with the arrangements for UIW's first alumni tour to Ireland.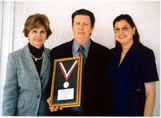 Honoree Walt Glass with his sister, left, and wife Cynthia, right.
Walt Glass, BA '73, 2003 Alumnus of Distinction. Walt's major for his BA in 1973 was psychology, but after his experience in ceramics class at UIW pottery became his life. A native San Antonian and graduate of Lee High School, Walt served for a year in Vietnam and then attended San Antonio College in 1967 before moving to Incarnate Word. He has been selling ceramics and paintings since 1968 and opened his first shop in the HemisFair area before opening a shop in La Villita in downtown San Antonio, which is still there, and opened and closed stores in four other locations, including Houston and Alamo Heights.
Hilda Salazar Castro, BA '77, is teaching at Kangda College in China.
In 1974 he moved his home and business to McQueeney, TX in order to build bigger kilns and handle his wholesale sales, which began in 1980 and has expanded internationally. McQueeney Pottery has 35 employees. A major partner in his business process through the years has been his wife of twenty-seven years, alumna Cynthia Vela Glass, BA '72. His pottery is in the collections of the Queen of England, two Mexican presidents, former Presidents Ronald Regan and George Bush, San Antonio mayors and heads of corporations. Somehow he managed to find time to teach at nearby Texas Lutheran University, introduce pottery to elementary school children, and advise other pottery programs. He and Cynthia have always made Glass pottery available for UIW's Scholarship Sweepstakes and the annual Swing-In Golf tournament as much-valued prizes. For Homecoming 2002, Walt and his celebrated teacher, Nancy Pawel, held a joint ceramics show in the Mabee Library on campus. He surprised her with a special work he created in her honor and in appreciation for her introducing him to the world or ceramics.
Dr. Frances Strodtbeck, BA'76, BSN '77, NNP, FAAN and Alumna of Distinction has been granted tenure at Baylor effective in 2004.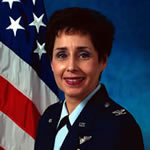 Col. Laura Valencia Alvarado, BSN '78, completed her term running the School of Aerospace Medicine at Brooks City Base in San Antonio and is now vice-wing commander.
Col. Suzanne Hardy Bonner, BA '78, (Below, second from left) served in Qatar as a protocol officer for General Tommy Franks at CENTCOM. She has since returned home to Tampa, FL. Most will remember Sue in her drama major student days working on or backstage in pre-Coates Theatre productions in the original Downstage Theatre.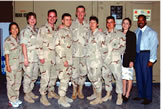 Lucille Duarte Fierros, BA '80, MA '89, is a counselor at Luther Burbank High School in San Antonio. She and husband Felix, BA '81, live in San Antonio and recently celebrated their 25th Wedding anniversary by going on a cruise to Alaska. They have two daughters, Kimberly and Kristin. Kim is an A&M and Trinity alumna and Kristin will be a UIW freshman this fall.
Felix Fierros, Jr., BA '81, has devoted 22 years in education and is an elementary school teacher at Inez Foster School in San Antonio. He received his MS in mid-management from Texas A&M-Kingsville, and for the past 18 years has coached successful scholastic chess teams with a middle school team winning Texas scholastic championship and elementary teams winning the region 6 championships in 2001 and 2002.
Mary Louise Grant Vance, BA '81, was named last March 20th to the San Antonio Women's Hall of Fame in the category of secondary education.
Michael A. Benedetti, BS Pe '82, has been married for 17 years and has a 16-year old daughter, Maegen, and a 13-year old son, Jack. Now in Katy, TX, Mike has always been in the wine or spirits industry and now works for Pacific Wine Partners, Blackstone of CA and Banrock Station of Australia.
Victoria Prosper Leland, BSN '82, her daughter, mother and father-in-law visited the campus during spring break. Vicky had not been back on campus in a while.

Sandra Fahr Gill, MA '83 survived the winter of '02 in PA.
M. Alejandra A. Castaneda, BA '83, and her family have returned to San Antonio from Florida. Alex is now the Director of Development for the UTSA School of Business. Alex had previously been the development officer for Incarnate Word High School.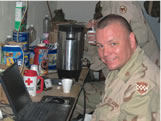 Major Arthur Anthony, BA '85, was deployed to Arifjan, Kuwait. His wife, Luise, and daughter, Shana, in West Virginia, are doing fine. As for news, his reserve unit, the 38th Charleston, West Virginia, was called to active duty. He mobilized and received special training at Fort Dix, NJ and soon afterwards was sent to Camp Arifjan, Kuwait.
Cecilia Martinez Lozano, BSN '85, has been a Rehab Nurse at HealthSouth Rehabilitation Institute in San Antonio since October 2002. Ceci had worked in managed care for twelve years and missed the clinical side. She is also contemplating a return to school for graduate work. Her brother and sister-in-law live across the street from Sisters Margaret Patrice Slattery and Mary Daniel Healy, CCVI, so Ceci gets to share in some homemade goodies now and then.
Rev. Mark Cannaday, BA '86, moved to west Texas where he is the Rector of the Episcopal Church of the Holy Trinity. He is the ninth rector in 75 years.
Kamela King Fiedler, BS HE '88, recently moved to Helotes and is an at-home working mother. Kami and her husband of 8 years, Kevin, have two children, Mason, 3, and Terra, 1.
Russell Rowton, BA '89, teaches at the International School of the Americas in San Antonio and conducts the Model United Nations program for the school. He was pictured in the February 28, 2003 San Antonio Express-News.

Javier Bustos, BA '90, is a senior police officer with the Austin Police Department. On June 7th he married Cathy Alexander, a police officer in Cedar Park, TX. They were married at Treasure Island in Las Vegas – without Elvis – and honeymooned in NY where they also paid homage to the fallen officers of 9-11. Javier, a former Logos editor, now has two stepchildren: Jeremy, 18, destined for the Marine Corps, and Amanda, 12, who will one day play for the Lady Crusaders he predicts.
Allen Dye, former student '90, would like to hear from some of the students he knew at IWC in the late 1980's. You can contact him at ADye@a-p.com
Stephanie Rhodes, BA '90, recovered nicely in Corpus Christi after foot surgery in May. However, that did not stop her from working with her sorority's mentor program float in the annual Buccaneer Days.
James E. Kirchenbauer, BA '93, is a special education English and mathematics special education teacher in Las Vegas, NV. He is also planning to begin work this fall on his doctorate in education at the University of Nevada at Las Vegas.
Gilbert Moreno, BBA '93, is the Director of Finance for Ernesto Ancira Chevrolet in
San Antonio.
Christina E. Cortez, BA '94, has been teaching in Corpus Christi for the last nine years. She completed her Master's in Educational Administration and Mid-Management at Texas A&M Corpus Christi. Her son, Blake Cortez-Garza, arrived in July of 2000. She is now back in the classroom teaching second grade. She'd love to hear from friends at cecortez3@excite.com.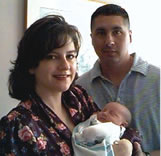 Dina M. Dugi Martinez, BBA '94, visited the campus during spring break with daughters Abigail and Karisa. Older sister Isabella was in school. Dina is now into freelance interior design work. Dina and alumnus husband Nash Martinez Jr., BS Pe '90, are shown here with their second daughter, Abigail.
Barbie Ann Marie Dunn, BA '94, was promoted to the newly created position of Southwest Regional Newsroom Supervisor. Business Wire's Texas Editorial Supervisor since July of 2001, Barbie will continue to oversee editorial staff, operations and procedures for three Texas newsrooms in Houston, Dallas and San Antonio/Austin. The Denver and Phoenix newsrooms round out the newsrooms she will now oversee.
Catherine MacRae, BA '95, is enjoying life as a newlywed with her husband, Bill Hockmuth, a high school mathematics teacher in the Fairfax County, Virginia public schools. For the last four years she has been covering the Pentagon as a defense reporter and managing editor of a weekly publication in Arlington, VA.
Cynthia Alvarado Mendiola, BSN '96, husband Louis, and son Arthur, 4, visited during spring break.
Kimberly Abston Oliver, BSN '96, has been working at Houston's St. Luke's Episcopal Hospital for five years. She is a cardiovascular and transplant ICU nurse working with Dr. Bud Frazier and his team of physicians at the Texas Heart Institute.
Lisa Marie Gonzales, BAAS '97, ADCaP was awarded a consultant position to head up the Testing for HANSEN [Deloitte Consultants] for the City of San Antonio ERM project. She was also brought on as an adjunct professor for Webster University, teaching business information systems on the graduate level, and is also working on her Project Management Professional certification.
Kindra Nix, BA '97, is working with the Henry M. Jackson Foundation for the Advancement of Military Medicine at Lackland AFB in San Antonio. She was hired by a project that is doing medical research for the Homeland Security Initiative. Kindra says it is a learning experience and a far cry from the music marketing industry of her major. She is also returning to UIW's graduate program for a teaching certificate.
Daniel Dominic Savedra, BA '97 and Mae Whitney-Savedra, BM '97, have moved to Austin. Dominic is the Associate Tennis Professional at the Courtyard Tennis and Swim Club, NW Austin, and responsible for all Men's Intraclub League activities and junior development program. Mae is working part time as an administrative assistant for Fox 7 Austin and teaching private voice lessons.
John Tedesco, BA '97, a reporter with the San Antonio Express-News since graduation, won the 2002 Philip True Award for his consistent, aggressive reporting. John was honored for stories on scandals in the community college district and the use of
force by the San Antonio Police Department.
Asia Hales Ciaravino, BA '98, is the Development Manager, Walk for the National Multiple Sclerosis Society in San Antonio.
John Lee, BA '99, MA '02, has moved to Kentucky where he is now the Director of Public Relations and Publications for Brescia University, Owensboro, KY.
Debra J. Luna, BSN '99, is a Registered Nurse working for the San Antonio Independent School District.
Erika San Miguel Pompa, BBA '99, has been working as a processor in the UIW Admissions Office in the Watson Building. In addition, she cares for her husband and two-year-old son. She loves writing, which she hopes, one day, will be a career.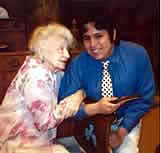 Professor Emerita of Theatre Maureen Halligan with 2003 Halligan Award winner, theatre major Ernesto Gomez.
Louis J. Agnese III, BBA '00, earned his law degree in May from the University of Texas at Austin and is working in international law in San Antonio. His sister, IWHS alumna Nancy Agnese, graduated from Texas A&M University in College Station and has been accepted into its College of Veterinary Medicine.
Misty Dawn Erlund, BM '01, was featured in a full-page story by reporter Danni Previte in the Kerrville Daily Times last November on her work in music therapy at Kerrville's Alpine Terrace Retirement Village and Convalescent Center. Misty outlined the various phases of her challenging job working with a variety of people. She did her internship at the Kerrville State Hospital. She opened an office in Kerrville this year for her clients.
Steven I. Salazar, BA '01, will complete his Master's degree in Social Work at the University of Texas at Arlington in December 2003.
Anthony Cristo, BA '02, is working for the American Cancer Society. A fortuitous choice as Anthony's mother died of cancer and he promised that in her honor he would complete the communications degree at UIW that he started at UTSA in 1990. And he did it magna cum laude. He still plans to reach his goal of being an actor/director/producer/writer in the entertainment industry, but "right now I am using the skills I learned at UIW in a job that gives back to the community and it feels great."
Nicholas Mendez, BBA '02 ADCaP, is a sales representative for Rackspace Managed Hosting.
Diana Meneses, BA '02, is pursuing her master's in history (focus: Native American History) at Arizona State University where she has a research assistantship. She plans to finish in two years, and if all goes well, on to her PhD so she can continue pursuing research, publishing, and teaching at the university level. Diana was as proud as can be that her brother, Ned, BA '96, and his co-workers and student in the San Antonio Say Si program were the grand marshals of the 2003 King William Parade of Fiesta.
Rachel Sanchez, BA '02, met with alumni and prospective students in El Paso last February, and introduced one and all to her baby son, Tobias.
Joanne Villaflor-Jimenez, MS '02, is living in San Antonio and is on the faculty of Northwest Vista Community College and a Clinical Dietician at St. Luke's Hospital.