On the Inside Looking In
Visiting Joseph Penn, MD, isn't like visiting any other Rhode Island child psychiatrist. There's no cozy, brightly decorated waiting room, but an imposing razor wire fence. No well-worn magazines, but a metal box where you lock your weapon if you're carrying.
Dr. Penn is not your usual child psychiatrist. He is the director of Psychiatric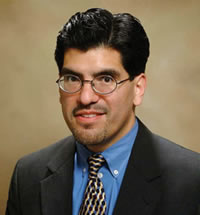 Joseph Penn, MD, BS, '87
Services at the Rhode Island Training School, the state's only locked juvenile correctional facility.
"We've got this guy…"
Penn is a graduate of St. Anthony Catholic High School and University of The Incarnate Word. He will receive the Alumnus of Distinction Award in May, along with Cinnamon Linda Stouffer.
As a Texas transplant, Penn received his medical degree from UT's Medical Branch in Galveston. He completed a residency and chief residency in psychiatry and a fellowship in child and adolescent psychiatry at Brown.
From Brown, Penn went to Yale, to one of the country's few fellowships in forensic psychiatry – the interface of psychiatry and the legal system. He was lured by the fascinating ethical and practical implications of forensics – involuntary committals, court-ordered medication and treatment. "The issue of civil commitment or forcing patients into treatment are intrusions on a person's civil rights," says Penn, explaining the complexities that drew him to the specialty.
At the time Penn was finishing his fellowship in New Haven, Lifespan health system was awarded a contract with Rhode Island's Department of Children, Youth and Families – the state agency responsible for juvenile corrections in addition to child protection and welfare. Lifespan would coordinate medical, dental and psychiatric care for the residents of the Rhode Island Training School (RITS) in Cranston, in an attempt to improve and centralize the sporadic, off-site care the residents had been receiving.
Chuck Golembeske, Ph.D., clinical director at the RITS, remembers getting a call from Greg Fritz, MD, director of child and family psychiatry at Lifespan and a professor in Brown's Department of Psychiatry and Human Behavior, regarding the psychiatric services they could offer. "Greg said, 'We've got this guy and we think he'd be the perfect fit for you.'
So we took Penn on, and we're glad we did," says Golembeske.
Tough but fair
For most of its residents, the Rhode Island Training School is the last stop on the road of juvenile delinquency. Youths must be sent on a court order, and it's usually a violent or serious offense that lands them there. Family Court, says Penn, resorts to the Training School only after group homes, staff-secured residential facilities, and other placements fail to change behavior. Once adjudicated, many residents are held FOC – until further order of the court – which can mean a period of a few months or until their 21st birthday.
Conservatively, 85 percent of the kids at the RITS may have a diagnosed or undiagnosed mental health issue. Penn says the three most common mental health issues are oppositional defiant disorder, conduct disorder, and substance abuse. Added to those are depression, anxiety disorders such as post-traumatic stress disorder, and ADHD.
Capacity at the RITS is 180 youths, but overcrowding is a constant problem, with 218 incarcerated one day in April. It's impossible for Penn to do intense, individual therapy with each one. He serves as a consultant, performing diagnostic evaluations, determining initial treatment plans, and all too often, conducting suicide risk and dangerousness evaluations for the Family Court.
Penn is a physician first and foremost, and he's always walking the fine line between clinical treater and forensic evaluator. He cannot provide treatment and make recommendations to the court about competency to stand trial or waiver to adult court because that would constitute a conflict of interest. But there are gray areas. If a youth engages in self-injurious behavior or attempts suicide, it's his job to figure out if it's attention seeking or if the youth is truly suicidal. He must counsel and treat his patient. And he must also answer the attendant forensic questions – Does the youth need a one-on-one watch? What steps can be taken to reduce suicide risk?
"I try to tell the court my recommendations regarding suicide and further treatment needs without going into detail about the alleged crime," says Penn.
Some critics argue that youths with mental illness do not belong in jail, but rather a hospital. Penn asserts that though there are exceptional cases, they are now equipped to treat the most common presenting mental illness at the RITS. "They get blood testing, they can be sent out for CT scans and MRIs, and a neurologist consults here every other week," he explains.
The average length of stay at psychiatric hospitals such as Bradley or Butler is just five to seven days. At the Training School, it is anywhere from a few months to a year or more. What's more, says Penn, a lot of the youths have a history of perpetrating physical and sexual violence, so to move a youth from RITS to the hospital, you have to ensure the safety of the hospital's patients and staff.
"You put a conduct-disordered youth who's delinquent and aggressive and gang-involved in an in-patient, therapeutic milieu, that kid can bully and wreak havoc in that unit. If you put a predatory sexual offender on the unit, he could victimize other kids," he says.
Penn sees patients in a cramped office in the RITS's administration building that is no larger than the residents' cells. In comparison to the previous fee-for-service arrangement that brought a psychiatrist to the school for just five to 10 hours a week, Penn is there for a minimum of 30 hours per week, and on call virtually 24 hours a day.
For many residents – even those with severe mental health issues – Penn is the first child psychiatrist they've ever seen. For some it's because of a cultural stigma, most just never had access. It's a cruel irony that for many youths, the RITS is the best thing that ever happened to them.
"It's probably a three-month wait on the outside to get an appointment with a qualified child psychiatrist, whereas we have Dr. Penn here providing top-quality, very responsive
care and the access is almost immediate," says Golembeske.
Penn approaches treatment much like he would on the outside, with his patient's best interest always in mind. "You have to be tough, but you have to be fair. When I see these kids, I'm very therapeutic with them, I'm empathic. But on the flip side, I tell them, 'You need to make good choices, you need to do a good job.' Whenever they are about to leave, I'm always asking, 'What are you going to do when you get out of here? Will I ever see you come back here?'"
Rising tide
When he is teaching, Penn tells the psychiatry trainees during their introductory forensic seminar that the legal process is about fairness. Talking with him, one realizes that Penn himself is all about fairness. He handpicks his words, using them not to criticize the juvenile justice system or the troubled families he meets, but to evoke objectively their flaws and limitations.
Polished and distinguished, his speech peppered with a few involuntary "y'alls," Penn is at once formal and familiar. He is bilingual, and is able to explain to Spanish-speaking parents their child's treatment options and medication needs not only in their own language but in a manner that is culturally sensitive.
Even in high-emotion court situations, dealing with lawyers and criminals, Penn is steady and unflappable, says Fritz. He credits Penn for his role in creating a positive momentum at the RITS over the past five years. He is highly regarded by DCYF and the Family Court judges, and that reputation reflects positively on the school. "There's a saying," says Fritz, "A rising tide floats all boats."
Golembeske and Fritz agree that Penn is an up-and-comer in the world of forensic psychiatry. He's gaining a national reputation as an expert witness and consultant in many types of legal cases, and was highly sought after as an expert on school violence after the Columbine High School shooting, testifying before Congress in 1999.
Fritz looks to Penn to become the resident expert in forensic psychiatry, and the backbone of Brown's program. Forensics is an important part of child psychiatry, and the focus at Brown will be on juvenile justice given the vast mental health problems encountered in the system. Medical students and psychiatry trainees currently rotate through the RITS on clerkships, and exposure to forensic psychiatry is drawing more residents and fellows to the department's postgraduate training programs. There are also plans to expand research efforts at the site.
"Part of the vision, for the Training School, is to build a full academic, research and clinical site," says Fritz.