UIW Continues its Mission to Educate
Starch your white jackets, ladies and gentlemen. Students with an eye to working in pharmacy now have a place to prepare in San Antonio.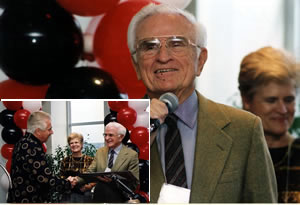 Leroy G. Denman Jr. of the George W. Brackenridge Foundation presents a $600,000 check at the press conference to announce the pharmacy program. Also pictured are UIW President Dr. Louis J. Agnese, Jr., and Denman's daughter, Emily Thuss, also a trustee of the Brackenridge Foundation.
A professional degree program to address a nationwide shortage of pharmacists is beginning this fall at the University of the Incarnate Word. With an eye to meeting a critical need both in Texas and the nation, the university will enroll students in a pre-pharmacy track this August and begin a Doctor of Pharmacy (Pharm.D.) degree program in 2006.
The UIW program will be the only one of its type in San Antonio, and one of only 88 in the nation. Currently, there are four public – but no private or faith-based – pharmacy schools in the state of Texas.
"The pharmacy program is a natural step for Incarnate Word for many reasons," said Dr. Terry Dicianna, university provost. "There is a huge demand for trained pharmacists across the nation, so we are not only helping students train for a needed and worthy vocation, we are also serving the public. This is one more continuation of our work here as part of the mission of the Sisters of Charity of the Incarnate Word."
Beginning in August, the university will offer a pre-pharmacy track at the undergraduate level that will prepare students to enter a terminal degree program for a Pharm.D. degree.
Incarnate Word will launch its doctoral program in pharmacy in fall 2006, which is the 125 anniversary of the school as well.
It's just in time. As baby boomers age and the need for medical professionals increases, Texas is facing a critical shortage of trained pharmacists. Statistics indicate that there is a need for 450 new pharmacists in Texas each year – and only 315 students graduate from a pharmacy program in the state pharmacy program annually.
"There is an increasing need for pharmacists, in part because of the aging population," Dicianna said. "Currently, two-thirds of prescriptions are given to those over the age of 60, and as the senior population grows, so will the need for pharmacists."
The pharmacy program, which was launched in January through a $600,000 grant from the George W. Brackenridge Foundation, is exciting not just for members of the UIW community, but all of south Texas. The Bexar County Pharmacy Association also provided an additional $10,000 for student scholarships.
Nearly 60 students have already been admitted into the pre-pharmacy program, which will begin in August, and applications continue to roll in. Hundreds of inquiries have been flooding the Admissions Office since the announcement was made in late January, and a spring informational meeting was standing room only.
The accepted students will spend two years in the pre-pharmacy track, which offers specially designed coursework to prepare them for entrance into the formal pharmacy program.
The Pharm.D. program is a four-year professional track that culminates in the awarding of a doctor of pharmacy degree; it will enroll a maximum of 75 students per year, which makes this a highly competitive program.
Students who choose not to pursue a doctoral degree in pharmacy after their first two years in the pre-pharmacy program will be prepared to enter degree programs in biology, chemistry, nursing and similar disciplines at UIW.
The Pharm.D. program will be highly competitive, with an anticipated four applications for every one accepted. More than 30 percent of applicants will already hold a bachelor's degree, and approximately 57 percent will have completed three years of college.
In addition to being the first program of its kind in the area, the University of the Incarnate Word program is the only Pharm.D. degree offered in Texas at a private University or a faith-based institution. It also boasts many unique elements that will make the program a flagship for the university, notably an optional bilingual pharmacy certification in English and Spanish.
"We plan to make this program with a bilingual option because of the need for Spanish-speaking pharmacists in south Texas; this, too, will better serve our community," Dicianna said.
A pharmacy degree also offers graduates a high-paying, service-oriented job right out of college. Average starting salary for pharmacists in 2003 in San Antonio was $80,000-$85,000 and many received a signing bonus.
"The pharmacy program represents a milestone for us in the field of healthcare, where we already have a strong presence because of our outstanding nursing program," said Dr. Louis J. Agnese, Jr., UIW president. "The pharmacy program will provide new educational opportunities for students in San Antonio that will result in high-quality jobs, while at the same time addressing a severe shortage of pharmacists that's predicted to persist for the foreseeable future."