Focused on UIW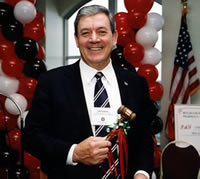 Chairman of the Board, James "Fully" Clingman
It all started innocently enough.
A few years ago, Dr. Louis J. Agnese, Jr., president of the University of the Incarnate Word, approached Fully Clingman about helping to sponsor Light The Way, one of the university's biggest annual functions.
Clingman, at the time the president and chief operating officer of H-E-B Grocery, agreed to help.
A few months later, Agnese approached Clingman with a different request: Would he consider serving as a trustee on the university's board?
Again, Clingman stepped up and said yes.
So, when Agnese came back with a third request – that Clingman assume the position of Chairman of the UIW Board of Trustees – the now-retired business executive had his answer polished.
"I told him I was honored," he remembers.
James "Fully" Clingman, who was appointed as Chairman of the Board in late 2003, has gone from lighting the way to leading it. In this new role, he is working to offer increased opportunities for students across south Texas, expand the curriculum offerings at UIW, and build the facilities to keep the university on the cutting edge.
It's part of a charge that Clingman, the first male and first non-Catholic Chairman of the Board, takes to heart in a special way.
"Education is something I care passionately about," he says. "It represents the future of our society."
Plus, how much work could being a Chairman of the Board be? "I thought, well, you meet four times a year, plus some dinners …," Clingman laughs, and then sobers instantly. "I'm serious in a way, you know," he continues. "My job is to help everyone here do his or her job. We have a good place, with good people. So this is a good role to be in."
A continued vision
Clingman's history of volunteering to better San Antonio and the surrounding area is well established. A longtime supporter of United Way, the Boy Scouts of America and Boysville, a community home for children, Clingman is known for his commitment to making the San Antonio community a better place, one project at a time.
His 28 years of leadership at H-E-B built on the company's foundation of charitable giving, and his own commitment to service has earned him public and private accolades across the state.
Clingman, who spent 43 years in the grocery business before retiring in May 2003, did not envision a career in the food retail business. After graduating from Louisiana Tech University, he considered a career in pharmacy before taking an opportunity in a management trainee program at Kroger Foods in 1960. He joined H-E-B in 1975, moving up into the position of chief operating officer in 1984, and, in 1996, earning the title of president and COO.
In Clingman's almost three decades with H-E-B, which is one of the three largest grocery chains in the United States, the retail giant continued to support charitable causes; create new paradigms, such as the upscale Central Market concept; and break into the Mexico grocery market, where it is now flourishing.
More than an entity of solid business expertise, however, Clingman credits H-E-B for being a company that embraces ethics-centered business practice. "H-E-B has taught me a lot about values, principles, and dedication to the mission," he says. "I have been aggressive in pursuit of goals, but always with integrity and ethics foremost."
Now, he brings that ethical foundation to his position as Chairman of the UIW Board. The founding Sisters' belief – that UIW prepares students for life, not just work – is a tenet Clingman sees reflected in the university today. From the continued strength of the nursing and education programs, to the announcement of the new pre-pharmacy track and Pharm.D. program – the university has remained true to its mission of serving the greater good. And Clingman's goal is no different. "My personal objective is to do all I can to help the university achieve its goals. It's not a beginning," he says, "this is a journey, and I just happened to hop on the train for a while."
Shaping the state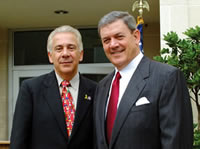 Fully Clingman pictured with Dr. Louis J. Agnese, Jr,. President of Incarnate Word
The abiding tenets of UIW – education, truth, faith, service and innovation – attracted Clingman to the university. But, with his business experience shaping his view, Clingman looks to the future – the future of Incarnate Word and the future of the state of Texas. As the university aggressively recruits students from south Texas, oftentimes offering opportunities to some of the state's poorest families, it provides a service to those individuals who come to school at UIW, and through them enriches the future of our state.
"Our job at this university is to provide affordable education to folks who normally would be overlooked or passed by at large universities," Clingman says. "Personally, I think it's a great opportunity to expand the educational level of the state of Texas through what we stand for here at the University of the Incarnate Word."
Andrea Cyterski-Acosta, the university's director of admissions, sees reaching out beyond San Antonio as critical to the future of the university and the future of the state.
"We take pride in recruiting students from across the state," Cyterski-Acosta says. "We continue to seek out students from all areas who have the drive and ambition to be a part of Incarnate Word and continue its mission and spirit."
Of course, continuing the mission and spirit of UIW is not just seen at the student level. As Clingman notes, that tone is set from the top. And Clingman
is proud to be working alongside President Agnese as Incarnate Word enters its 124th year. "Lou is hard driving; he's ambitious for the university.
I think Lou is a good role model for all of us on how to push your concept to an extraordinary level."
Building on past success
Clingman brings more to the table than just his business background; he is a "first" for UIW in two significant ways: The first male Chairman of the Board and the first non-Catholic. It's a milestone he acknowledges, but not one to which he gives much credence.
"Obviously it's an honor for me to be the first male and the first non-Catholic Chairman of the Board," Clingman says. "But I (believe) what the Sisters of Charity of The Incarnate Word profess and practice. So, really and truly, it's just not that big a deal."
Clingman's predecessor, Dr. Ruth Eilene Sullivan, served as Chairman for three years. When she handed over a ceremonial gavel to Clingman in January, she passed on a legacy of commitment and quiet determination. "I am proud to see Fully step into this position," Sullivan said. "I know he will do a fine job of leading the Board."
For his part, Clingman sees himself building on the foundation Sullivan set – notably putting people first, a belief that carried him through 43 years in the food industry, and one that guides him as he now eases into retirement. "My wife, Gloria, and I spend time with our three sons and their wives and our grand kids. That's our most important asset, and that's where we devote our time," he says.
The future incarnate
Just as work, however fulfilling, is not the measure of Clingman's life, he does not see himself as the, ahem, "full" story of UIW. But he does think he's got the best seat in the house as UIW enters its next phase.
"When you're Chairman of the Trustees, you are in a support role," he says. "You're in support to the Sisters of Charity of The Incarnate Word and the college president. I think a lot of exciting things are going to happen here. Not because of me, but because of the dreams, passion, dedication and the capability of those folks in the position of making the big decisions. My role is to make the dreams come true for the Sisters."