Dear Friends: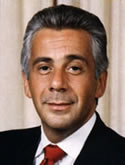 We began the millennium last year with a simple theme, "Keeping The Word," which guided us through everything we accomplished. This Annual Report chronicles many of those accomplishments, tangible evidence of the new heights reached by our community. Our goal for the upcoming year is to build on what we achieved by maintaining our focus through empowerment and accountability. But right now I'd like to provide you with a brief overview of the past year.
The completion of the natatorium is the most outwardly visible manifestation of our accomplishments. This beautiful pool complex will be home to our new swim team, in addition to providing many new offices and a conference room. Work also began on two new important construction projects - the business education building that will be incorporated into Incarnate Word House, and a dorm/parking/banquet facility that will be located by the International Conference Center overlooking both the campus and the city. Both of these buildings will be completed by summer of 2002.
The IBM Laptop Initiative was extremely successful, so much so that after only one year, we are now viewed nationally as a model of how to implement such programs. Our new Virtual University exceeded early enrollment projections. This initiative received an important boost late last year when the U.S. Army selected UIW as part of a group of 29 universities from across the country that will offer distance education to thousands of soldiers. (Other institutions in this group include Florida State University, the University of Washington and Penn State University.)
Our international presence continues to grow. We finished the first year at the China Incarnate Word campus with 90 students, and that number will exceed 150 in the second year. Our sister school alliances for reciprocal education also continue to grow - we now have agreements with nearly 70 institutions in over 20 countries, the latest being New Zealand. In addition, international students now comprise 9 percent of our student body, keeping us on pace to reach our goal of 15 percent by 2005. And a new International Student Merit Scholarship program was launched in March with a successful fundraiser.
We also received a $1.4 million Student Support Services grant for designing student retention based on a mentoring model. This was part of the nearly $4.6 million we received in grants from foundations, corporations and government entities.
I hope these brief highlights give you a sense of our many activities during the past year. I encourage you to read the Annual Report for additional details. In the meantime, let me thank all of you whose generous contributions and constant support are once again reflected in the pages of this report. Your help and generosity have allowed the University to continue fulfilling its goal of offering students the best possible educational opportunity within a context of faith.

Best wishes,
Louis J. Agnese, Jr., Ph.D.
President