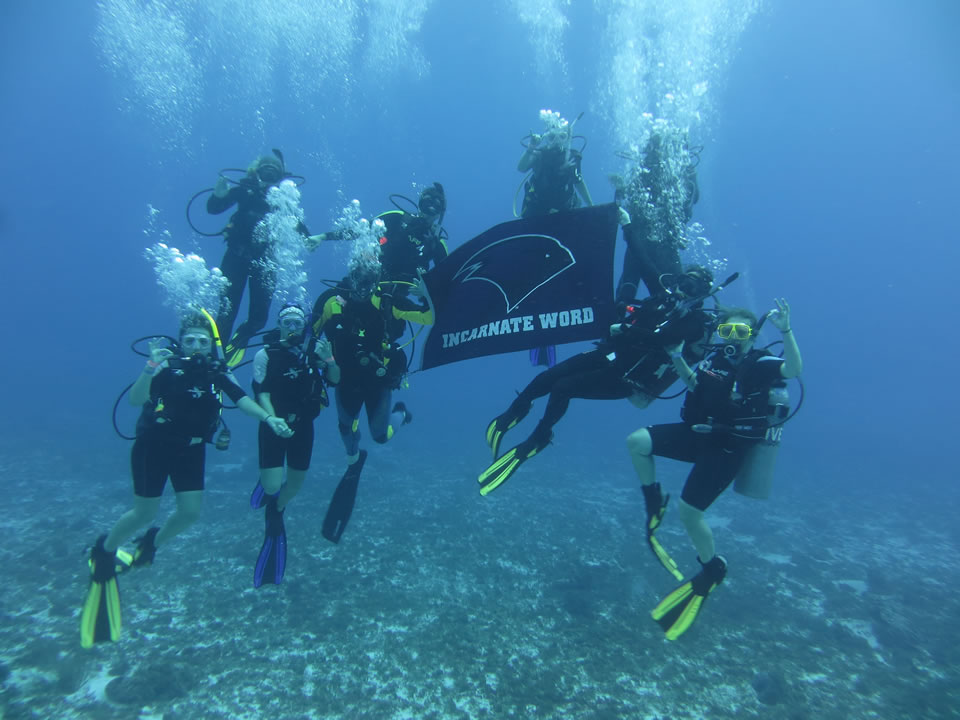 By Brance Arnold '10 MA
"When did they get a scuba club?" read a recent comment referring to a photo posted to the University of the Incarnate Word's (UIW) Study Abroad Facebook page. The post shows several students and faculty members displaying a UIW flag while scuba diving in exotic Cozumel, Mexico. While it may be unexpected, it's true. Though located more than 150 miles from the coast, UIW is officially home to a new scuba club.
Spearheaded by faculty representative J.T. Norris, assistant professor of business administration, the UIW Scuba Club was established in the fall of 2013. Norris, who has been diving since age 15 and has taught scuba diving for over 30 years, initially created the organization as a Club Sport.
"I thought the student organization route was going to possibly be more complicated, so last summer I spoke with Director of Athletic Training Facilities Scott LeBlanc and he suggested making a Club Sport out of it," said Norris.
According to Norris, the UIW Scuba Club is the first in the city of San Antonio at the collegiate level.
Norris garnered interest by promoting the organization through UIW's internal communications, but primarily utilized word-of-mouth to spread the news. In no time, he had interest from several students and faculty.
During the fall semester, three students and five faculty members trained for five weeks to earn diving certification. The group trained in partnership with one of San Antonio's Dive World locations and completed an eLearning course via the National Association of Underwater Instructors (NAUI).
"Initially, we were going to rent equipment from Dive World and bring it to the Natatorium," explained Norris. "But it made more sense to train over there as they have a 23 ft. deep pool with all the equipment."
"It took four nights in the pool approximately two hours each to prepare," said Anna-Marie Moore, senior accounting major and the club's inaugural president. "The online education portion that went along with the pool sessions also helped build confidence and comfort in the water."
To complete certification, the group members had to perform four checkout dives over the course of two days.
In December, under the instruction and guidance of Norris, they traveled to Cozumel to perform their first open-water dives. Lodging at the Casa del Mar on the picturesque shores of the Caribbean Sea, the group worked with a diving operation located at the hotel, Dive House. In addition to Norris, two dive masters and a videographer accompanied the group members on their open-water dives.
On the first day, they performed two beach dives at the Casa del Mar Reef with a maximum depth of 23 ft. and the next day performed two boat dives, one at Cardona Reef and one at Paradise Reef, with maximum depths of 54 and 38 ft., respectively. After completing the dives on the second day, the divers were officially certified as open-water scuba divers.
Norris said, "At lunch, we had a graduation ceremony where they all got their certification cards and I gave them patches indicating they were now certified divers. Then I told them, 'Now tomorrow you will finish your first specialty course because now you're international divers,' and I gave them a separate patch for international divers."
The following day, they made their first dives as certified divers at the Santa Rosa Wall, one of Cozumel's premiere dive sites, and the Chacanaal Reef.
"The Santa Rosa Wall dive was the most impressive," Moore recalled of the 86 ft. deep excursion. "Our dive master led us through tunnels that weaved through the wall."
The group experienced a breathtaking look at various marine life while in Cozumel.
"The water in Cozumel is beautiful and full of all kinds of sea life," shared Dr. Russell Attridge, assistant professor of pharmacy. "We saw many types of coral, anemones, fish, lobsters, crabs and even sharks."
On her 21st birthday, Moore said she was exhilarated at personally seeing a massive stingray and four nurse sharks while diving.
Now that the club's inaugural group is certified, the task of transitioning the club to a university approved student organization falls on the shoulders of Norris and Moore. Norris already has a list of over 35 students that have expressed interest in the new club.
Moore presented the club at the Student Government Association's (SGA) meeting in February which voted it as a recognized student organization. As a student organization, the club can facilitate the participation of more than just faculty and students. "We can have three levels of membership," Norris explained, "with students; faculty, staff, and administrators; and an associate's membership to include alumni and members of the UIW community."
Simultaneous to creating the organization, Norris has in process a course syllabus working its way through the kinesiology department in order to offer scuba diving as a full credit PE course for undergraduates next fall; this will open opportunities for financial aid and scholarships to help offset some of the costs. Norris said several faculty members will also be directing their Employee Campaign contribution funds to the club to benefit students.
"My vision is to eventually establish a core of students that will actually be certified instructors by the time they graduate," said Norris, "and to have the scuba club serve as a vehicle for students to travel abroad, in-line with one of the university's goals of creating global leaders."
To learn more about the UIW Scuba Club, upcoming scuba training and certification dives, contact J.T. Norris at jnorris@uiwtx.edu.